Recently I received a package from
Parnevu
and in it was the PARNEVU Extra Dry Salon Shampoo, the PARNEVU Extra Dry After-Shampoo Conditioner and the PARNEVU Extra Dry Scalp Therapy. Now I have tried all of these and today I want to tell you about two of these products.
The
PARNEVU Extra Dry Salon Shampoo
is pH-balanced and specially formulated to cleanse your hair and scalp of oil buildup without stripping. The gentle cleansing agents are derived from coconut oils and palm nuts and they effectively remove grease from the hair and scalp. If you look at my before picture you will see how my hair looks before its washed. Normally I use a variety of shampoos to try and find one I really like but Parnevu I think tops the list.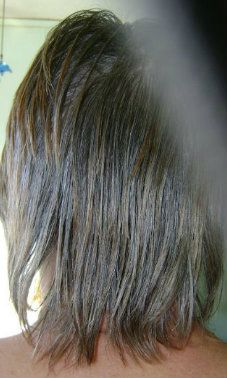 After using this shampoo for a few weeks now, look how nice and manageable my hair is and its not dry like it was before. I am in need of a color which will happen before Christmas. I love how my hair feels now. Its so soft and manageable. I give this shampoo a 10* This shampoo is nice and thick with a delightfully fragrant scent to it. Its not a strong scent but rather a very light scent. It lathers up well but you do have to either use a double dose of shampoo the first time or shampoo the hair twice to get the lather moving I found. Otherwise its great. This shampoo is almost a clear color. This clarifying shampoo:
*Removes buildup
*Helps prevent breakage
*Contains natural oils
*Leaves hair moist, soft, and silky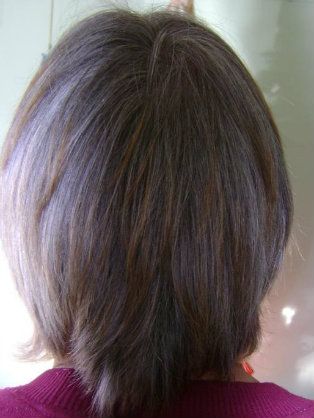 Now the other product was the
PARNEVU Extra Dry Scalp Therapy
.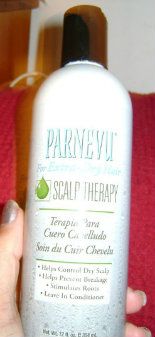 I really like this product because of how my scalp feels now. My scalp is no longer flaky or itchy. Nothing is worse than having dry skin flakes on your shoulders or having to scratch your scalp because its dry. With this scalp therapy, I am bothered no longer with either of these problems. It is a scalp treatment and leave-in conditioner that reduces flakes and relieves itching while restoring moisture to your scalp and hair. It can be applied to wet or dry hair. The unique blend of oils and moisturizers invigorates your scalp, giving your hair the nourishment it needs to grow. I think its working too because it hasn't been that long since I had my hair cut and it needs cutting again. This extra-hydrating daily leave-in conditioner for dry hair:
*Helps control dry scalp
*Helps prevent breakage
*Stimulates roots
Directions for Use
: Part hair into rows and apply generously and evenly to scalp, using fingertips to massage in gently. Smooth around hairline.
This is a white cream and has a coconut scent to it even though the ingredients don't mention coconut. I like it. Its nice a smooth and makes your scalp feel great. My hair hasn't been in such a manageable state in a long while and I do have to say its due to the Parnevu products.
Please leave a comment if you would be interested in trying some of these products. It would be interesting to read what you think.