I had the pleasure of online "meeting"
Bethany Cousins
who is the author of
Review Bloggers
. What an amazing book this is. The book tells you in full detail how to be a successful blogger, how to get sponsors, Alexa ranks & statistics, Pagerank, Tomoson, Book reviews, using a template letter, blogger etiquette, your media kit, your target market, how to follow up and keep track of your potential sponsors, what NOT to do, disclaimers, how to get sponsors to pay you, organize your emails, and so much more.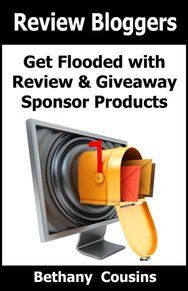 Bethany has put years of experience, research and trial and error into her book with the hopes of helping others. She has read so many different books on blogging, many of which would only reveal some stuff, and mostly, they were full of fluff. Her name, who she is, is important to her, so she wanted whatever she had her name on to reflect the type of person she is, not someone who put out a book to con people into buying it and offer nothing to them, or very little.
So this book comes from her heart, is full of truth and she holds nothing back. Every step you need to be successful in blogging, gaining and keeping sponsors etc. is all in this book in full detail. I printed this e-book out and its 48 pages long.I have never seen or read as much detailed information about blogging as I have in this book. I am so grateful to have found Bethany. This book is going to help me tremendously.
You can buy Bethany's book at
Amazon
http://amzn.to/Os2LTu
and
Barnes & Noble
http://bit.ly/MKmyBe
**
This book is published for the Amazon Kindle and the Barnes and Noble Nook, however, there are apps available for both the computer and smartphones if people do not have a Kindle or a Nook, so they can still purchase it and read it if they simply download the Kindle or Nook app on their computer or smartphone.
**At Amazon
:
Bethany Cousins (Author), Rik Feeney (Editor), Chitraparna Sinha (Editor), Linda Rogacki (Editor)
Digital List Price: $6.99
Kindle Price: $6.99 includes free international wireless delivery via Amazon Whispernet
Length: 60 pages (estimated)
File Size: 368 KB
Print Length: 60 pages
Sold by: Amazon Digital Services, Inc.
Language: English
ASIN: B006XWPETQ
Text-to-Speech: Enabled
At Barnes and Noble
BN ID: 2940014675505
Publisher: Bethany Cousins
Publication date: 7/6/2012
Sold by: Barnes & Noble
Format: eBook
Sales rank: 910,554
File size: 736 KB
Biography
Bethany Cousins is the founder of Mommy Rantings and has reviewed - and helped promote - hundreds of products for companies. She is also a mom of seven awesome children and former business manager turned Internet content strategist.
This biography was provided by the author or their representative.
Now meet Bethany Cousins:
Thank you Bethany for allowing me to review your e-book and learn so much. Its been a pleasure!