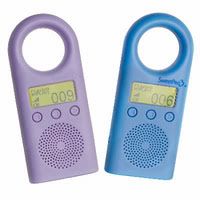 All you have to do is visit
SweetPea Toy Company
and click the Facebook "like" button. The top 10 bloggers who generate the most number of "Likes" will get a to host a giveaway! So tell your friends...and maybe you will be the lucky winner of this super MP3 Player for your child! You can only vote until Oct. 31st.
About the SweetPea3
The SweetPea3 is the top selling MP3 for kids on the market. It is a real MP3 player that holds 32 hours of music and plays through a speaker. Kids and parents alike love this player because it makes music so accessible and it lasts forever.
Thanks for the "Likes" everyone!