Do you enjoy scrapbooking? Would you like to learn how to do this? Take a look at My Memories Suite software here
digital_scrapbooking_software
I myself have no idea how to scrapbook. I did manage to put together a photo of my son and his wife on their wedding day but as you can see I still have some work to do on it. I want to put a nice border and dress it up a little more. Yes the heart on one side is a little off so I have to fix that too. There are so many things you can do with this program. I have lots to learn yet.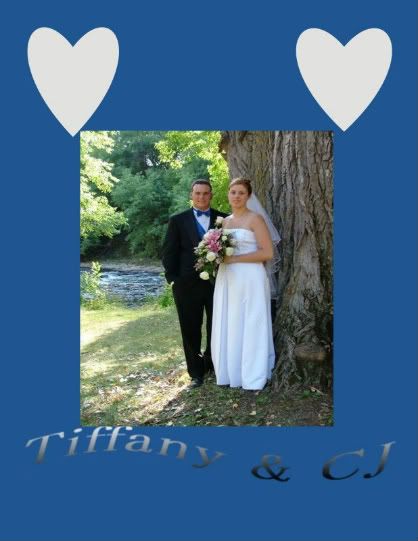 With
My Memories Suite
you can create and share professionally printed and bound calendars, make posters or trading cards for your son's soccer team, post a movie of your scrapbook on your Facebook page-all with the click of a button.
Take advantage of a full suite of sharing options and turn your scrapbook into a movie to watch on a DVD-or view on an iPod.
My Memories Suite
allows you to share an interactive album on a disc (DVD or CD) that will automatically play on a computer (PC or Mac). Viewers can interact with your scrapbook by clicking on video, playing narration or navigating through your scrapbook like a website. You can even place in web links for them to visit or embed hidden files like Grandma's secret cookie recipe.
You can make a beautiful scrapbook an interactive memory experience for anyone who sees it. Use simple one-click options to enhance your scrapbooks, with music, narration, video, and even the Internet. Go beyond pictures by showing off video of the birthday party, or record a narration to capture the memories that pictures alone cannot. With My Memories Suite you simply don't look at a scrapbook-you experience it!
Take a look at this video
http://www.youtube.com/user/MyMemoriesSuite
You can also go here
digital_scrapbooking_software
to use this code STMMMS54220 that provides a $10 discount off the purchase of the My Memories Suite Scrapbook software and a $10 coupon for the
www.MyMemories.com
store - $20 value. Be sure to copy and paste the code to avoid typos when using it.
One lucky person will win a My Memories Suite program
"Mandatory entry is required, you must complete it to be eligible for the extra entries."
No anonymous names allowed to enter.
***Anyone not following this blog via GFC~Google Friend Connect found on right hand side will have their entries deleted.***
Sometimes you have to let the page fully load for GFC or Networked blogs to show.
Leave your email address in your post so I know where to find you if you win.
MANDATORY ENTRY
Go to
www.MyMemories.com
and come back and tell me which digital paper pack or layout is your favorite.
EXTRA ENTRIES (if it says 2 entries, make 2 posts)
** 2 entries--- "Like" My Memories on Facebook
http://www.facebook.com/pages/MyMemories/140359372717593
** 2 entries--- Follow My Memories Suite on
Twitter
** 2 entries--- Follow My Memories blog
http://blog.mymemories.com/
** 1 entry--- Subscribe to my blog via email and confirm
** 2 entries--Follow me on
Twitter
** 2 entries-- Follow me via Google Friend Connect in the right side bar
** 1 entry-- Follow me on Networked blogs in the right side bar
** 2 entries -- "Like" me on Facebook
http://on.fb.me/ekIMCW
** 1 entry-- Subscribe in a reader in the right side bar
** 3 entries--Add my button to your blog and post the link where it can be found
** 5 entries--Blog about this giveaway with a link back to me, and post the link where it can be found
** 1 entry--- Tweet the following:
#Giveaway~Enter to #win #MyMemoriesSuite Scrapbooking software @ http://bit.ly/ewbxS7 Ends -Oct. 10 Open to US/CANADA
You may tweet once daily for one entry.
Open to US/Canada
Giveaway ends October 10
The winner will be selected by random.org and notified by email. Winner will have 48 hours to reply back before a new winner is selected.
Good Luck everyone!
Disclaimer-
I was provided a product in exchange for my review. The opinions are completely my own based on my experience.
You can read more about my blog policies in my disclaimer.