Today I received the Fairy Hanger set from
www.kidorable.com
. They were very well wrapped when they arrived and they are really cute. I know my grandaughter is going to love them. I am putting them away for her for Christmas. She has the backpack in the Fairy style and I know she will love this hanger set in the same Fairy style.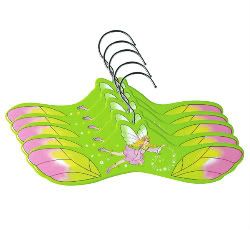 She will be happy to hang her pretty dresses on these fairy hangers. They are very well made, sturdy and heavy, and a nice size too. I got the medium size which is for 4 year olds and up.
They come in two sizes, newborn to three years, and ages four and up.
This hanger set includes 5 hangers.
I am sure your child would love some hangers like this or you/they can choose the style you want by going to
Kidorable
.
**Special Offer**
Now there is also a special offer for these hanger sets. You can get 20% off your entire order when you purchase their impossibly cute Hanger Sets
Kidorable
.
From July 25 through August 8, just use coupon code CLEAN33 at checkout on
www.kidorable.com
.
Check out these hanger sets and make your child put on a happy face. They really are adorable sets that any child would be happy to own.
I was not financially compensated for this post. I received a sample for review purposes. The opinions are completely my own based on my experience. Thank you Kidorable.