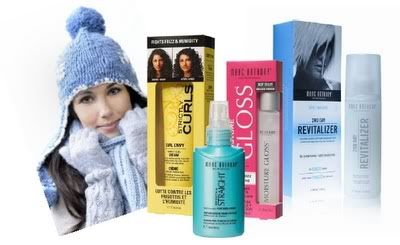 Here are some tips from the Celebrity Stylist team at Marc Anthony to sail through winter with fabulously healthy hair!
1. Moisture, Mositure, Moisture!
When rinsing out your conditioner, leave a little bit in to add moisture. Then, use a moisture rich styler like Curl Envy Perfect Curl Cream ($9.99) for all-day hydration. Even though it is a curl product, it also works wonderfully on straight hair to quench dehydrated tendrils and smooth frizz.
2. Don't Over Wash
Try not to wash your hair every day. Over washing can strip your hair of moisture and colour. Instead, use a no-wash cleanser like 2nd Day Revitalizer ($11.99) between washes. This will also help to prevent frizz and static.
3. Take Care with your Hat
Your winter hat might absorb some of your hair's much needed moisture. If wearing a hat try to compensate for moisture loss with a light moisturizer like Moisture Gloss Daily Drops ($9.99). Another little trick is to spray some Smooth & Straight Heat Protect Flat Iron Spray ($9.99) inside your hat - it helps tremendously in controlling static.
4. Camouflage with Colour
If you dye your hair, using darker, richer shades in the winter can help to camouflage dryness. Light bounces off of dark hair wonderfully, giving it the appearance of shine and health. Try taking your blonde or brunette a bit darker than you would in the summer.
GIVEAWAY:
2 winter hair care survival kits worth over $200 each - one for Canada, one for the US with each kit containing:
Style Straight Unwind Shampoo x 2, Style Straight Frizz Away Conditioner x 2, Smooth & Straight Heat Protect Flat Iron Spray x2, Style Straight Instant Straightening Cream x 2, Strictly Curls Curl Envy Perfect Curl Cream x 2, Strictly Curls Curl Defining Lotion x 2, Instantly Thick Hair Thickening Cream x 2, Moisture Gloss Daily Drops x 2, Pro Finish Ultimate Hold Hair Spray x 2 and 2nd Day Revitalizer x 2 - yes, that's right, 2 of each product - hoard them for yourself or share with a friend!
Giveaway is open to US and Canada and ENDS Feb. 11
To enter, go to
http://www.beautycrazed.ca/2011/01/gear-your-hair-up-for-winter-with-marc.html
NOTE: Sorry about this link everyone.It wasn't working but I think it is now. If there is a problem, leave a message and I will fix it.