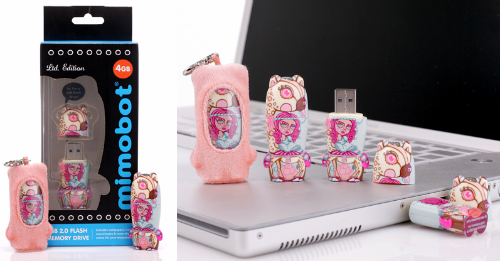 Looking for character-based, artist-designed USB flash drives?
Then
Mimoco
is the perfect brand for you!
The distinctive character-based MIMOBOT line offers from 2GB to 16GB of flash memory storage and transport for all your most precious music, docs, pics and other personal data bits and bytes. The MIMOBOT range is available in several crossover flavors, such as
Star Wars
,
Hello Kitty
,
Halo
, and Japan's
Domo
and their MIMOBOT
Artist Series
has functioned as a canvas for pop-artists like Gary Baseman, Jon Burgerman, and Simone Legno amongst other fresh designer toy, street art, and urban cultured talent. Additionally, MIMOBOT flash drives deliver original exclusive preloaded "mimory" content for your enjoyment.
To enter this giveaway, go to
http://jaebumfangirl.wordpress.com/2010/12/20/mimobot-usb-giveaway/
To see more products from Mimobot, go to
http://www.mimoco.com/shop/mimobot-designer-usb-flash-drives
This giveaway Ends Dec. 27 and is open Worldwide.
Good luck everyone.