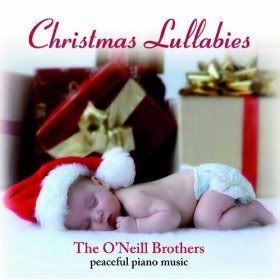 Peaceful piano music by the O'Neill Brothers. I am sure the music played on this cd would lull even an adult to sleep. There is nothng more satisfying that listening to a softly played piano and especially when its all Christmas lullabies. Just look how comfy that little one looks after being lulled to sleep by this musical cd. That is so precious.
There are tons of ways for entering this giveaway and so far only 2 comments. Check it out.
Two people are each going to win one of these Christmas Lullaby CD's by entering here
http://freebies4meandu.blogspot.com/2010/12/holiday-gift-guide-giveaway-christmas.html
This is open to US and Canada and ENDS Dec.18
Good luck everyone.