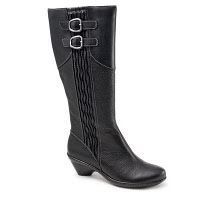 Don't these boots look great? They would be so dressy and inside each pair of these boots, there's a unique massaging footbed. The footbed makes these shoes so comfy!
The innovative "mogul" construction is orthopedically designed and patterned after mattress technology for maximum comfort. The unique interaction of the design's multi-layers absorbs the stress of standing or walking while offering cushioned support from heel to toe.
SoftWalk has one of the largest offerings of sizes and widths from any manufacturer in the comfort footwear category. Check out the boots, clogs, sandals, dress wear, casuals and slings and you won't be disappointed.
If you are interested in buying a pair, here is a code to use for 20% off. TTSC20
Go here to see all the wonderful footwear
http://www.softwalkshoes.com/
To enter the giveaway and maybe be the lucky person to win a pair of your choice, go to
http://www.trying2staycalm.com/2010/10/softwalk-review-and-giveaway.html
This is open to US and Canada and ENDS Nov. 2
Good luck everyone.