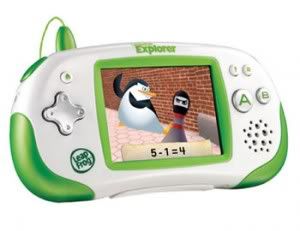 Leapster Explorer
Brand new for fall 2010, the Leapster Explorer is from Leapfrog and is a great learning experience for your little ones.
You can dowload e-books, videos and even connect this to a parent's computer for online game play. How cool is that.
You can register for an account at Leapfrog Learning Path and parents can see their child's progress and the Leapser Explorer or any other Leapfrog toys. You can put them all under one account.
The Leapster Explorer comes with one Leaplet card/code. By using this code you can choose between games, e-Books and videos to download, featuring favorite characters like Ni Hao Kai Lan, Dora the Explorer and more.
The Leapster Explorer from Leapfrog is best for ages 4 – 9 years and also comes in purple for girls!
You can win one of these by going here
http://feistyfrugalandfabulous.com/2010/09/leapster-explorer/
Ends on September 20th at 9PM CT
Open to Canada only for this one.