Two (2) lucky readers will win an O-Cedar Pro Mist Mop.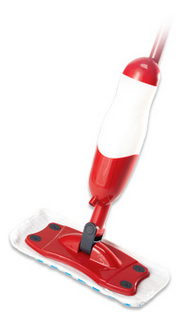 The ProMist includes two types of reusable microfiber pads: a durable pad which can be washed up to 100 times and a semi-disposable pad that can be washed or tossed—great for messy spills! The mop has a refillable bottle that allows users the choice to use their favorite cleaning solution or water only.
The benefits are that:
It offers a thorough, convenient clean every time.
The reusable microfiber pads lift and trap dirt and grime. Since they are reusable, it helps save money and is more eco-friendly.
It is safer for moms and pet owners to clean due to the refillable bottle—choose your own cleaner!
To read more about this product go here
http://www.ocedar.com/main.taf?p=1,6
To enter the giveaway, go here
http://thebkeepsushonest.blogspot.com/2010/07/o-cedar-promist-review-giveaway.html
Open to US & Canada and Ends August 20
Good luck everyone.