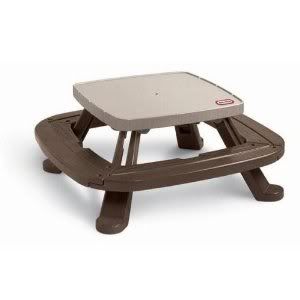 This table actually folds down onto itself and becomes flat so that it can be stored on a wall or flat against a wall in the back of the shed or garage.
So it doesn't take up any space if you bring it in for the winter and store it till spring.
It has a wood grain look to it and it will seat up to 8 kids. . The table also has a hole for an umbrella if needed. Now how neat is that?
You can enter this giveaway here
http://feistyfrugalandfabulous.com/2010/07/little-tikes-picnic-table/.html
This is open to US & Canada and ENDS August 19
Good luck everyone.