Iseeme
sent me the most beautiful book. Our grandaughter, Ava loves Tinkerbell and fairies. So with her birthday at the end of this month, we thought this would make a perfect gift for her.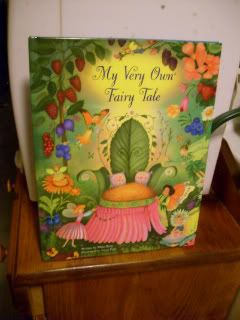 These personalized books are hard covered books and fairies bring letters one by one to spell out your child's name in rhyme.
You get to choose the name,date of birth,gender,sender and the year given. All these are on the introduction page of the book.
Sorry the photo is a bit blurry. It says:
This book was made especially for Ava Lillian Demell
who arrived on November 30, 2007
For Our Very Special Fairy Princess!
Grandma and Grandpa
2011.
Inside the book, its time to choose a fairy princess. So each fairy uses a letter of the name and says something about their friend. At the end of the book, the name is spelled out and Ava is chosen as the new Fairy Princess.
There are a total of 62 fairies in the book and at the back of the book it shows them all in the Fairy Patch. Then you have to find them all in the book. Some are very tiny.
Its a total of 30 pages and has the most delightful story to make every little "fairy princess" smile when its read to her. I know Ava will love this book.
http://www.iseeme.com/
has many book titles to choose from. "A Christmas Bear for Me", My Very Own Name Storybook, My Very Own Pirate Tale and even a book for twins and siblings. Check it out, you will be just in time to order a book for your little one for Christmas.
Iseeme
has more than books. They have personalized gifts, and even gift certificates. So have a look.
Thanks so much to Anita at
Iseeme
for allowing me to review this wonderful book.