If you are looking for a great dish that is filling and quick and easy to make you have to try the
VHSteamers
They are absolutely delicious.
My husband and I tried some the other day. He had the Kung Pao Chicken and I had the Chicken Teriyaki.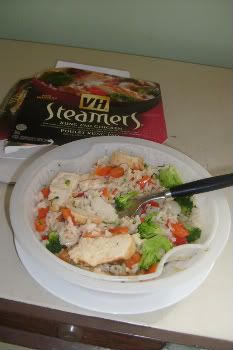 There is rice, veggies and chicken in both of these meals along with a great sauce in the bottom. Now this little bowl it comes in has two parts. The top part with the rice and veggies in and if you lift that up, the sauce is in the bottom part of the bowl. The funny part of all this is we really didn't read all this before we began to eat our meal and I asked hubby where my sauce was. I lifted the bowl and saw the bottom was a dark color then noticed the grooves in the bowl where you lift the top part up. Voila! There was the sauce. I proceeded to pour the sauce over my rice meal and it was delicious. Now this was the Chicken Teriyaki that I had.
Hubby on the other hand had the Kung Pao Chicken and said it was great and he does enjoy hot spicy foods but this sauce was a little too hot for his liking. So you can suit yourself if you like your sauce hot.
Otherwise it was wonderful and we are going to try the Shanghai Ginger Beef VH Steamer and the Thai Chicken & Shrimp VH Steamer next. These steamers come in 6 varieties and the other two that I haven't mentioned are the Honey Sesame Chicken and the Zesty Orange Chicken.
You really must try these VH Steamers. They are quick, easy and delicous and very filling.Check them out here
http://www.vhsauces.ca/VHSauce.html#steamerEN
To see other products by VH, go to
http://www.vhsauces.ca/VHSauce.html#homeEN
Thanks to Lisa for sending along some coupons for me to try the VH Steamers and write this review.