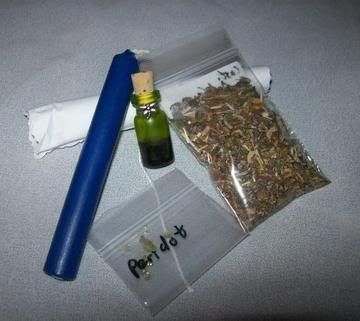 The winner can choose between a Custom Candle Spell Kit or the Three Card Reading.
EmKat Creations is an etsy shop where you can browse and then choose what you would like to buy. The owner of the shop has been reading tarot and creating spells for just under 10 years now. This is what she has to say:
I love getting a feel for what the client needs in their spell work as well as what type of magic they're comfortable with, but the best part is the research. I love wandering through my books and my notes searching for the best fit for their needs. Looking up and cross referencing all the correspondences (color, day, moon phase, time, herbs, stones) and then working them all together is the best part of what I'm selling. Many of the products in my shop started out as custom requests that I felt worked well as an item for others.
To see all of the products Em Kat Creatiions offers, go to
http://www.etsy.com/shop/EmKatCreations
To enter the giveaway go to
http://audreysgiveaways.blogspot.com/2010/10/emkat.html
This giveaway is open Worldwide and ENDS Nov. 5
Good luck, everyone.