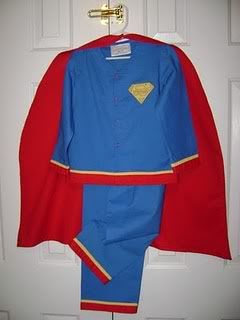 Wouldn't your child just love to crawl into bed with a new Super Hero pair of pajamas or Halloween or Christmas pajamas that he knows no one else has? He would feel so special. These pajamas come in sizes 12 months all the way up to 7! These pajamas will also come with the child's name on them. They are all hand made and resemble "Hugh Heffner" lounge wear that will give little boys a sophisticated look.
These are something your child can put away as a keepsake for his first pair of "big boy" pajamas.
To see what is offered go to
http://www.etsy.com/shop/SleepyTownPajamas
and then come and enter the giveaway here
http://funandfunkymommy.blogspot.com/2010/09/sleepy-town-pajamas-with-giveaway.html
This giveaway is open to US and Canada and ENDS October 30
Good luck everyone.