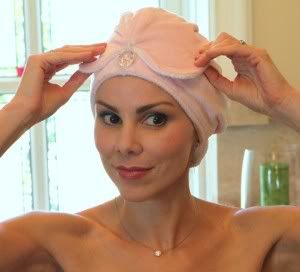 Wrapadoo™ is a Plush, Ultra-Luxurious hair wrap for women and girls of all hair types.
Place it on your head, Stick the Velcro, Twist the tail twice, pull it up and Loop it over the little "jewel" to secure it. Voila! Retro Glamour. It has a snug and cozy fit.
It's lined with an absorbent terry cloth and the outside plush is amazingly soft. This is the kind of softness that would be great for wrapping a baby in, but the Wrapadoo is for me! They have 2 sizes available – one for women and one for girls. It's available in solids and some fun prints. And you can buy them individually or as a set.
To enter this giveaway go to
http://sweeps4bloggers.com/?p=8588
To see more about the Wrapadoo go to
http://www.wrapadoo.com/
3 Winners Ends Sept. 8 Open to US & Canada
Good luck everyone.