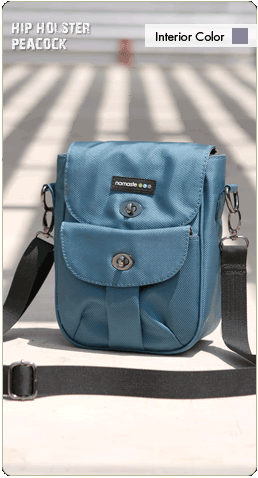 Brand new from Namaste, introducing the Hip Holster: Constructed of durable, PVC free materials that are animal-friendly and luggage quality Dual functions include belt attachment feature & adjustable shoulder strap option. Dual compartment design for extra organization Gun metal hardware accents for a unisex appeal Ideal for airport or city travel, small projects or gadgets, and for people "on the go"
COLORS: Black, Peacock
MATERIALS:
Nylon canvas. All materials are animal-friendly & PVC-free.
SIZE: 3" W (at base, 2" at top) X 8" H X 6" L
To enter this giveaway go to
http://www.hipmountainmamablog.com/2010/08/namaste-hip-holster-giveaway.html
Open to US & Caada and ends August 20
Good luck everyone.