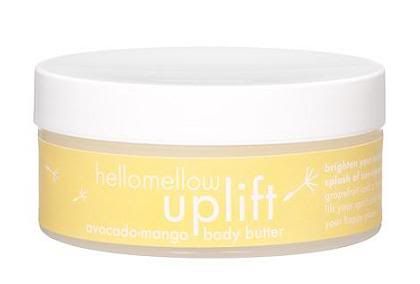 Hello Mellow Body butters are all natural ultra-moisturizing body soothers that comfort as well as they heal.
Hellomellow products are made from the highest quality pure ingredients without harmful preservatives, toxins, or chemicals. no fillers, no synthetic chemicals, no artificial fragrances and no harsh detergents.
The names of their scents are - uplift, relax, rejuvenate, revitalize, balance, empower, arouse and unwind.
They are not just about Body Butters. They also have They have energy lifting sprays in 2oz bottles, body scrubs in 22oz tubs, body oils in 2oz and 8oz bottles, lip balms and bath salts in a 16oz container.
If you are having a baby, just had a baby, or need a gift for a new mom - be sure to check out the preggo/kiddo section.
One winner will receive a 2 oz avocado-mango body butter in one scent of their choice! Choose either uplift, relax, rejuvenate, empower, revitalize, balance, arouse, or unwind.
To see all these products go to
http://www.hellomellow.com/
To enter the giveaway, go to
http://audreysgiveaways.blogspot.com/2010/07/mellow.html
Giveaway is open to US & Canada and ENDS August 6th.
Good luck everyone.