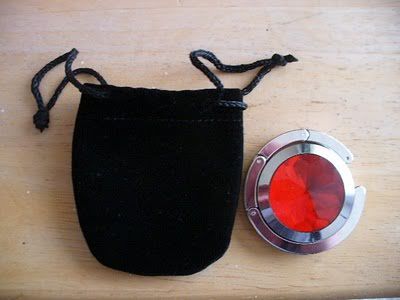 This is the neatest idea I have ever seen. How many times have you gone to a restaurant or somewhere and had no place to set your purse? With this purse hanger your problem is solved for you. No more worrrying about losing your purse or theft or even getting it dirty from sitting on the floor.
This will hold up to 17lbs; weighs less than 2oz.
Stores folded to only 1 3/4" in diameter.
Non-slip pad keeps hanger in place.
Faceted crystal decoration in 5 fashion colors
Includes black velvet travel pouch
To see this and other products go to
http://www.joeyjunior.com/index.html
To enter this giveaway go to
http://audreysgiveaways.blogspot.com/2010/07/hanger.html?utm_source=feedburner&utm_medium=email&utm_campaign=Feed%3A+AudreysGiveAways+%28Audrey%27s+Give+Aways%21%21%29
Open to US & Canada and ENDS August 14
Good luck everyone.